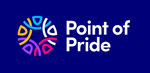 The formation and original aim of Gynecomastia Solutions was to provide suitable shapewear for men to deal with the problem of gynecomastia. Over the years, we've noticed a growing number of our shoppers are trans, or gender-diverse, and use our shapewear in the same way men do to reduce the appearance of their chest. To help us, and our patrons, better understand the experience trans people have with dysphoria, and to learn how we can support them, we've spoken to Jeff from Point of Pride, a trans-led charity who provide vital support to the gender diverse community.
1. For our readers benefit, can you give us an overview of your organisation and its main aims?
Point of Pride provides financial aid and direct support to trans folks in need of health and wellness care. Founded in 2016, we are an entirely volunteer-operated and trans-led 501(c)(3) non-profit organisation based in Eugene, Oregon that serves the international transgender community. 
Our mission is to help our recipients—the most vulnerable members of our community—to feel seen and supported, and thereby better able to navigate their personal and public life more safely. We provide: 
free chest binders and free femme shapewear, mailed discreetly and at no cost to recipients
access to permanent hair removal services for trans femme folks
access to gender-affirming surgery and hormone therapy (HRT) for trans folks who lack financial resources, geographic proximity to providers, and/or inclusive health insurance coverage
Of the people we serve across all programs, 1 in 4 of the folks we assist are living with a disability or chronic illness. 90% are youth under the age of 24, often lacking family/community support as well as financial resources. 
2. What role can shapewear play in helping trans and gender diverse communities?
For the people who wear chest binders (or femme shapewear/gaffs), these garments can have a transformative impact on their ability to live authentically and safely. These garments are more akin to prosthetics than they are to clothing. 
We often hear from community members that before they had access to their garment, they simply would not leave their homes due to dysphoria, anxiety about others' reactions to their gender presentation, or fear for their physical safety. After receiving a garment, 75% of the people we serve reported feeling safer in public, 70% reported that they no longer avoided leaving the house, and 69% noted an improvement in their mental health. 
One of the most heartbreaking and common experiences we hear is that folks cannot hug their loved ones because they are so overwhelmed by dysphoria about their chest. Youth will hide, shrink away, or choose to give up activities they once loved. But once they receive a binder, that often changes overnight: the very act of receiving the binder is a powerful message of support and validation of our recipients' identities. 
3. Would you be able to offer some advice and potential limitations of binding?
Binding can have a huge, positive impact on folks' mental healths and how they feel about their physical presentation, but it's important to bind your chest safely. Always speak with a trusted, qualified healthcare professional before using a binder, especially if you have any questions or conditions related to breathing or mobility. Always use a compression garment specifically designed for binding, limit the amount of time you bind to less than 8 hours a day, and remove it before sleeping or exercising. If you wear a binder too long or one that's improperly sized for your body, you risk having difficulty breathing, or even injuring your ribs. (Binding may be a bit uncomfortable, but it should not hurt!) 
4. Ways in which people can support your campaign?
The best way folks can support our work is to make a donation. As a volunteer-operated, trans-led organisation, we ensure your entire gift goes directly to the programs and the people we serve. A gift of just $9 USD covers the cost to process and mail chest binders to 3 trans folks in need of them.  
Another way to get involved is to write letters to trans folks to provide support and validation. Every garment we mail is accompanied by a handwritten note from volunteers and allies. These notes have a huge impact on the youth and adults who receive them, and we are always in short supply. No sign-up necessary! You can start writing cards right away. 
5. Do you have any recommended resources for people to learn more about safe binding?
Yes! We've put together a comprehensive guide to chest binding on our website, with tons of information about how to bind more safely and comfortably, where to get a binder, and more.
----------------------------------------------------------------------------------------------
A huge thank you to Jeff and Point of Pride for the informative interview, we're really looking forward to working with them more in the future.

Links: 
Website
Donate
https://www.pointofpride.org/donate
Safe Binding Guide
https://www.pointofpride.org/binding
Other resources